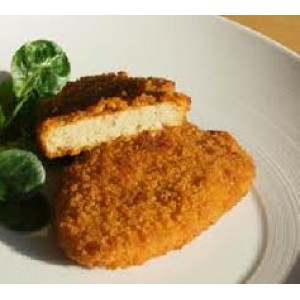 Product Code:

6926928

Manufacturer:

Packaging content:

1 x 8.5 kg
En.
Made with lightly seasoned, shaped and textured vegetable proteins; coated in light and cripsy breadcrumbs.
NUTRITIONAL INFORMATION
TYPICAL VALUES
PER SERVING
PER 100g

ENERGY

192 kcal

PROTEIN

16.0g

CARBOHYDRATE

12.5g

of which sugars

1.0g

FAT

8.0g

of which SATURATES

0.9g

FIBRE

3.0g

SODIUM

0.6g

PER SERVING (A 100g SCHNITZEL)

192 CALORIES

8.0g FAT
Ingredients: Rehydrated soya and wheat proteins (58%), water, breadcrumbs (wheat flour, water, salt, yeast, vegetable oil, paprika extract), vegetable oil, dried egg white, wheat flour, salt, yeast extract, onion powder, stabilisers (guar gum, methyl cellulose), garlic powder, hydrolysed wheat protein, spices, pea fibres, vitamins & minerals (tricalcium phosphate, vitamin C, vitamin B3 [Niacin], zinc oxide, ferric diphosphate, vitamin E, vitamin B5 [Pantothenic Acid], vitamin B6, vitamin B2 [Riboflavin], vitamin B1 [Thiamine], folic acid, vitamin B12).
Allergen information: Contains soya, gluten and egg. Maycontain traces of sesame, celery and mustard.
Nl.
De schnitzel, met een basis van soja- en tarwe-eiwit, heeft een karakteristiek lekkere, knapperige buitenkant. De vulling is stevig; dit product is heerlijk bij aardappeltjes en gekookte groenten. Een citroentje mag natuurlijk niet ontbreken.
Bereiding
Onze schnitzels zijn gemakkelijk te bereiden in de oven en in de koekenpan.
180ºC
Oven
Bak de schnitzel in het midden van een voorverwarmde oven gedurende 6-8 minuten. Halverwege keren.
4-5 minuten
Koekenpan
Verhit boter en/of (olijf)olie en bak de schnitzels op hoge temperatuur gedurende 4-5 minuten. Regelmatig keren.
Ingrediënten: 20% gerehydrateerd soja-eiwit, gerehydrateerd tarwe-eiwit, water, paneermeel, ui, plantaardige olie, scharrelei-eiwit, erwtenvezel, voedingsvezel (cellulose), aardappelzetmeel, uienpoeder, geconcentreerde tomaat, stabilisatoren (guarpitmeel, E401, E461), tarwebloem, zout, gistextract, aroma's, kruiden en specerijen, knoflook, maltodextrine, knoflookpoeder, vitamine B12, ijzer.
| Voedingswaarden | per 100 g | Een schnitzel (90 g) bevat |
| --- | --- | --- |
| Energie | 190 kcal | 171,0 kcal |
| Eiwit | 13,0 g | 11,7 g |
| Koolhydraten | 13,0 g | 11,7 g |
| waarvan suikers | 1,0 g | 0,9 g |
| Vet | 9,0 g | 8,1 g |
| waarvan verzadigd | 1,0 g | 0,9 g |
| Voedingsvezel | 4,5 g | 4,1 g |
| Natrium | 0,50 g | 0,5 g |
| Toegevoegd zout | 0,8 g | 0,7 g |
Percentage van de aanbevolen dagelijkse hoeveelheid:
vitamine B12 15% - 0,38 mcg
ijzer 15% - 2,1 mg