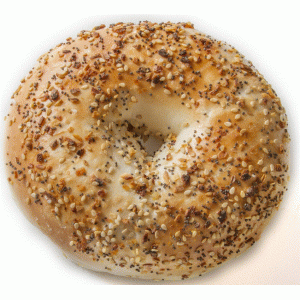 Product Code:

10616

Manufacturer:

Packaging content:

8 x 6 Pic.

Supervision:

OU
Product Description: Kettle boiled, ring-shaped yeast roll, baked to golden brown with a slight sheen. Topping covers bagel. Texture is soft and tender to the bite.
Allergen Statement
Contains Wheat and Soy
Claims:
Kosher - Orthodox Union. Does not contain Artificial Flavors, Artificial Dyes, Preservatives, Trans Fats, Nuts or HFCS
Nutrition values:
Serving size: 1/2 bagel
Amount/Serving: (57g/2oz)
Calories
160
Sodium
440mg
Calories from fat
10
Total Carbohydrates
32g
Total Fat
1g
Dietary Fiber
1g
Saturated Fat
0g
Sugars
4g
Trans Fat
0g
Protein
5g
Cholesterol
0mg
Vitamin A (%DV)
0
Calcium (%DV)
0%
Vitamin C (%DV)
0
Iron (%DV)
4%
Handling Instructions
Thawing:
Let bagels sit at room temperature for 30 minutes and serve. Toast if desired.
Baking:
Preheat oven to 230-260 degrees Celsius. Bake frozen bagel 5-8 minutes depending on oven.
Allow to cool for at least 15 minutes before serving.